Home For Good
Providing Healthcare for Our Most Vulnerable Neighbors
The pandemic strained our healthcare systems and widened the gap between people experiencing homelessness and the care they need. As hospitals and health centers reduced hours and focused on COVID-19 specific services, access to care became nearly impossible.
In early April, United Way of Greater Los Angeles assembled a group of partners via Zoom to address this gap. This group, later established as the Health Pathways Group, brought in additional public and philanthropic partners to coordinate and problem-solve. They continue to meet to support the health needs of people experiencing homelessness and to strengthen and integrate systems.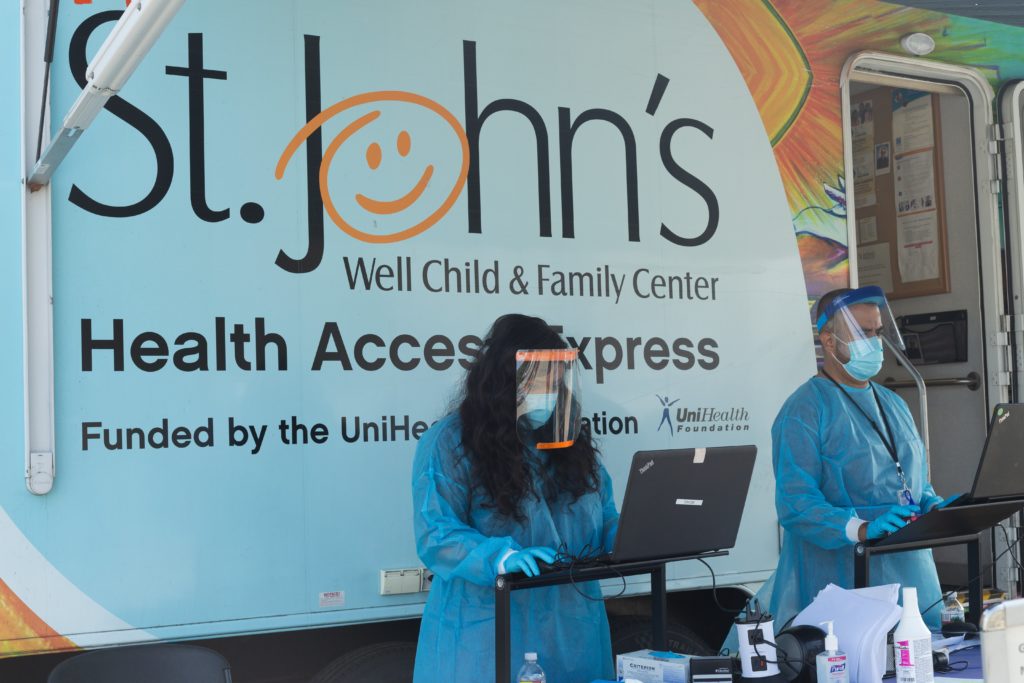 Health Pathways Expansion
Guided by United Way in partnership with the California Community Foundation, these conversations quickly turned into action with the Health Pathways Expansion Request for Proposals in June 2020.
A $500,000 founding gift from Cedars-Sinai sparked additional investment support from L.A. Care Health Plan, UniHealth Foundation, and a generous $1 million contribution from Providence.
In August, the Health Pathways Expansion grants funded 16 local health services providers who partner with homeless service agencies to support the expansion and enhancement of health services. This investment gives immediate care to our most vulnerable neighbors and builds a foundation for further integration of health and homeless systems.
St. John's Well Child and Family Center
One grantee, St. John's Well Child and Family Center (St. John's), is a network of Federally Qualified Health Centers offering medical, dental, behavioral and social support to over 100 thousand people throughout South Los Angeles, serving primarily Black and Latinx communities, and dedicated to reducing racial health disparities while increasing access to care.
"We take on a lot of clients that are historically locked out of the healthcare system and address the large healthcare disparities that plague our city," said Jim Mangia, President and CEO of St. John's.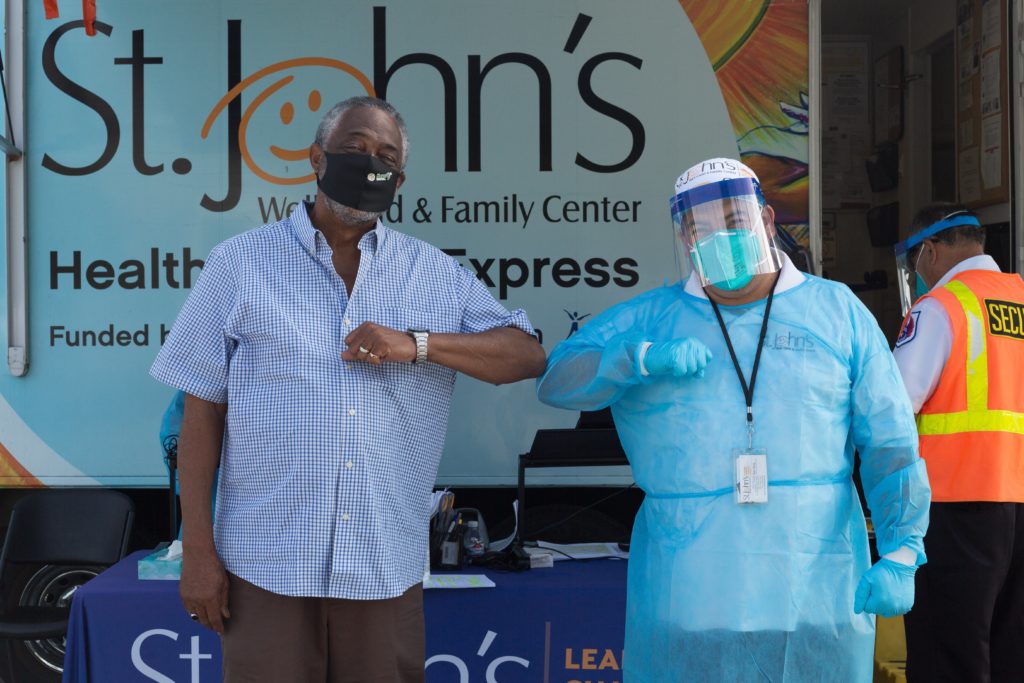 Homelessness, Healthcare and COVID-19
Homelessness takes a terrible toll on health. People in their fifties show the health problems of people in their eighties. Living on the street exacerbates health conditions and often leads to additional health concerns such as diabetes and hepatitis.
The St. John's team knows well the complex health needs and challenges of healthcare delivery to the homeless population. "We found it was difficult in the four walls of a clinic to provide the magnitude and depth of the services needed," Jim said.
Even before the pandemic, they provided treatment to more than seven thousand people experiencing homelessness through their 17 community health centers and two mobile clinics."We would drive into the L.A. riverbed, shelters, and encampments," Jim said.
If you want to treat people experiencing homelessness, you have to go to them.

Jim Mangia, President and CEO of St. John's
St. John's has stepped up in this time with an internal COVID task force that created a new telehealth program and robust testing protocols. There are hundreds of people lined up every morning before we even open our doors," said Jim. "Everyone is seen and everyone gets a mask as soon as they arrive."
So far they have seen 20 thousand new patients from their testing efforts. Many of these patients are homeless and continue to get care through St.John's.
"COVID exacerbated what we've known for a long time and really exposed the health disparities our patients live with," said Jim.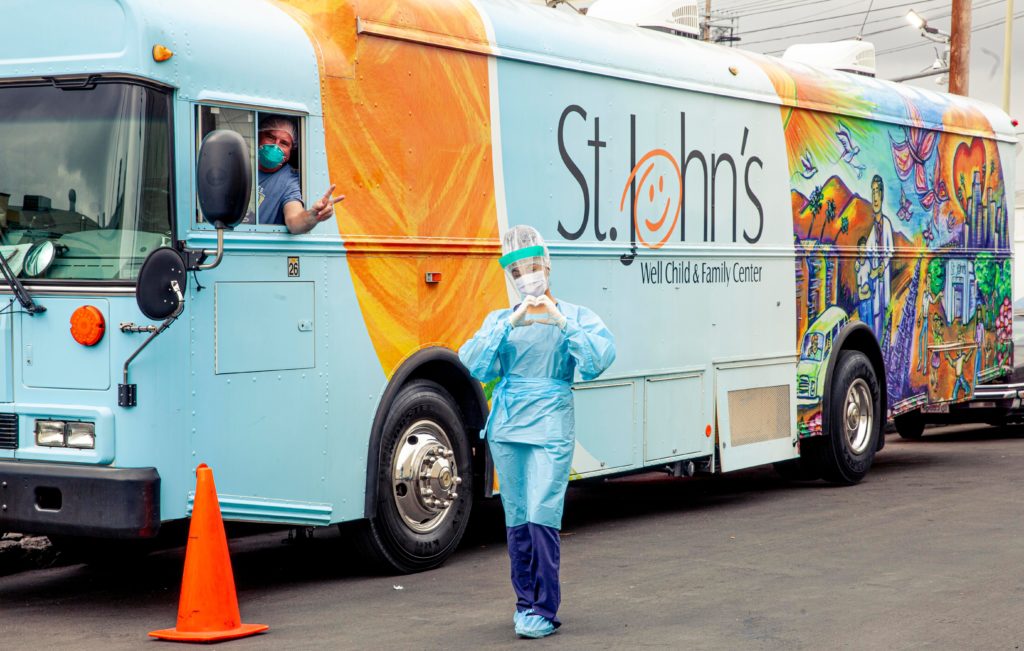 Game-Changing Partnership and Grants
St. John's is a new partner to United Way through the Health Pathways work. Mr. Mangia mentioned his long standing support for the Everyone In campaign, stating, "I don't know where we'd be in L.A. County without the commitment and engagement of United Way. I've been watching them from afar build support and consciousness around homelessness."

The agency "has very deep, long-standing relationships with homeless service providers." However, Mangia remarked that "Health Pathways feels deeper and more transformative."

St. John's was brought into the Health Pathways group to share on-the-ground experience from serving people experiencing homelessness. Jim regards the group as "the first real collaborative and open process to inform a robust strategy and an incredibly successful experience."

The grant allows St. John's to expand its impact bringing medical services to Project Roomkey sites. With the funding, they were able to open an additional site. It enables them to support mobile clinic staff, provide case management, benefits, and social service support at a scale they were unable to before.

"Although it is early, we are seeing a lot more patients and a significant impact," Jim said. "We've been able to broaden and deepen the services provided."

The grant is setting a foundation for long-term and sustainable care for the population.

Jim Mangia, President and CEO of St. John's
Insurance enrollment is a key component of financial sustainability for the program. Many people experiencing homelessness are qualified to receive insurance benefits, but few have access to care.
Health Pathways allows clients to get immediate care then supports them in obtaining long term health coverage.
One Patient At A Time
Each person experiencing homelessness has a healthcare story that can go unheard for years. Jim shared a few stories of St. John's patients.

Evelyn, a woman in her late 40s at a Project Roomkey site, began exhibiting symptoms of COVID-19 and didn't know what to do. She ended up testing positive for the flu. St. John's staff were able to treat her and reduce her symptoms.
Another woman in her 60s had blood sugar levels through the roof and was identified as prediabetic. Through the program, she gained access to blood pressure medicine, an opportunity to speak with a provider about exercise and direct access to healthy meals, social support and services. This will hopefully prevent her from needing insulin in the future.
Victor, a man in his early 50's, was tested by St. John's for COVID-19 at a Project Roomkey location. When they took his blood pressure, it was extremely high. St. John's staff took him to a hospital.

"They told us he was about to have a stroke. We saved him from a stroke," Jim said. A long term goal for St.Johns is getting underserved communities used to being seen by healthcare professionals.
We want all patients to know that they are welcomed and have a right to healthcare services.

Jim Mangia, President and CEO of St. John's
The urgency of COVID-19 created an opportunity for collaboration and innovation to produce a new system to serve this vulnerable population. The Health Pathways Expansion grants brings us one step closer to bridging the healthcare gap in Los Angeles County.