Supportive Housing
Accelerating Permanent Supportive Housing for Quality Construction, Faster and Cheaper
In spring 2019, United Way of Greater Los Angeles awarded $5 million in grants to a range of bold projects through the Accelerating Permanent Supportive Housing competition (APSH).
APSH asked applicants to tap their creativity while designing grounded, realistic, and scalable projects. The competition cast an especially broad net, looking for the best ideas and including new partners and for-profit companies. The goal was to generate quality structures that last and invite people inside. The project also aimed to support housing developers in their exploration of new housing concepts, leverage City and County public funding opportunities, and further our collective housing goals as a region.
After all, there's no way to bring Everyone In without a place for them to come home. We need bold solutions to create enough affordable housing, including supportive housing. Twenty-five percent of people experiencing homelessness in L.A. County need supportive services when they come inside. This includes people who have disabilities or have survived trauma–in need of services such as mental health care, job training, and addiction treatment.
United Way strategically positioned the opportunity between County and City of Los Angeles efforts, maximizing the impact of the public dollars. The County's Housing Innovation Challenge brought numerous new designs and creative concepts to light. United Way's APSH helped bridge public opportunities, supporting developers in furthering creative concepts. Awarded funds helped concepts evolve into increasingly effective and achievable building designs, following which grantees could apply to the City of Los Angeles's HHH Housing Challenge to fund construction.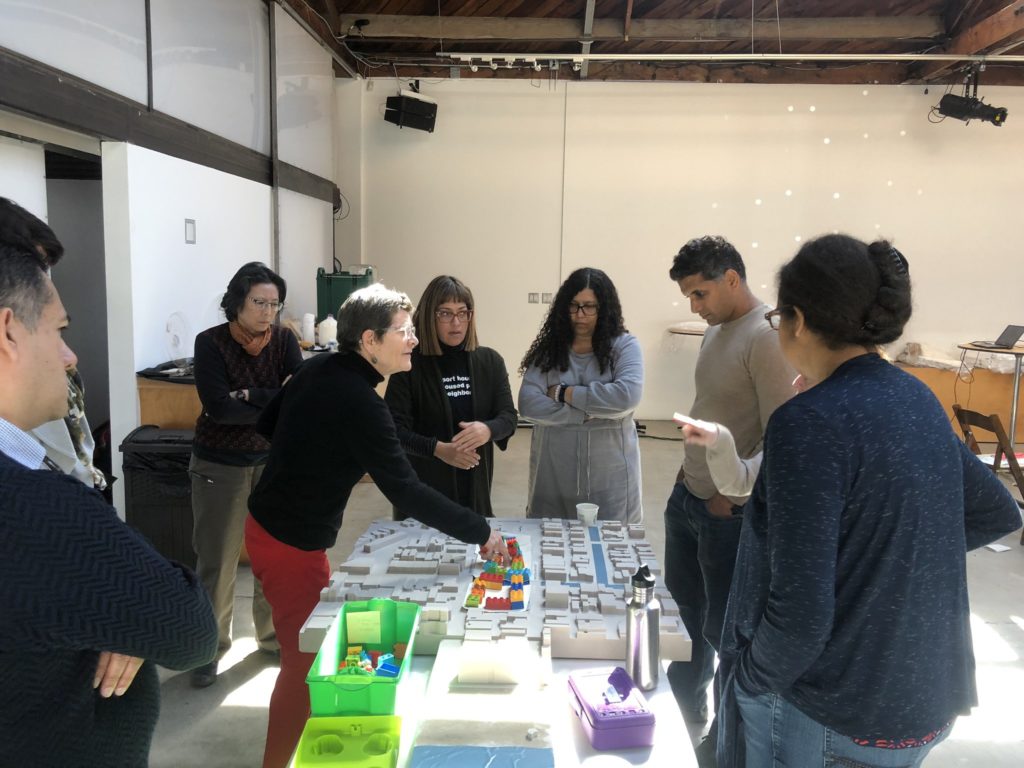 APSH gave our projects legs before an award was made. Having access to funds during pre-development gave us maximum flexibility in finding sites, and making things work. Ultimately, the APSH put us in a position to succeed.

Greg Comanor, Partner at Daylight Community Development
United Way's unique role as conveners between sectors and systems helped to stitch together resources and increase the overall return on investment. Collaboration with developers and centering client needs drove design of the APSH competition and generated new and more meaningful designs. As Becky Dennison, Executive Director of Venice Community Housing put it, "United Way is very good at being informed by the folks doing the work and adding their twist to push the field forward."
Ultimately 16 developers received awards for APSH projects with an estimated 1400 supportive to be constructed over the next several years. Projects varied in scale, model and where they were at in the development process. Several of the projects were featured in 2019's Innovative Supportive Housing to End Homelessness Showcase and Competition. APSH funds have increased the permanent supportive housing pipeline.
Small Spaces Add Up
There are numerous small, unused lots of land throughout the County that often go untouched by large developers. Innovative housing projects can transform underused spaces into beautiful homes.
Genesis L.A. has a unique model using these smaller lots of land. "Our focus has been on projects located on sites that are too small for traditional affordable housing development," said Tom De Simone, President & CEO, explaining how United Way's investment allowed the company "to expand our pipeline from 4 projects totaling 33 units to 10 projects, totaling 163 units today."
In addition to increasing capacity, the project reduced both costs and time. "We work with the same team of professionals on each project; we use 'by-right' development incentives to avoid discretionary actions; and Genesis L.A. provides streamlined financing to cover all stages of development," said De Simone. "These strategies are reducing development timelines and per-unit development costs for studio apartments by about half. By spring 2021, we expect to have 9 of our 10 pipeline projects in construction or completed."
While these funds are game-changing, De Simone sees rental subsidies as a critical piece for sustainability of these efforts. "The public sector must find a way to expand its investments in rental subsidies to unleash the potential for developers and service providers to finance and construct new units. We think that a large-scale investment in rental subsidies is the most impactful way to get more housing built fast and to do so through more innovative methods than traditional permanent supportive housing has been built and financed."
Accessory Dwelling Units Bring Supportive Housing To Households
Venice Community Housing (VCH) is a long time provider of housing and supportive services. They continue to fight to bring and keep more affordable housing in Venice and surrounding communities.
We continue to assert that higher income neighborhoods like Venice maintain their fair share of affordable housing. Inclusive neighborhoods are better for everybody.

Becky Dennison, Executive Director, Venice Community Housing
The APSH project, Marian Place, is upgrading a 7 unit space into 10 units and adding space for supportive services. The model used by VCH in this case are accessory dwelling units (ADU), which are small unit add ons to existing properties. "This is about utilization of space and maximizing existing space," Dennison stated.
Becky mentioned how the timing was just right with the APSH funds after the land was donated to VCH. However, United Way's support in predevelopment "made this project happen," remarked Dennison. "We are adding 10 units we wouldn't have had and in a neighborhood where they wouldn't be accessible at all."
Overall this project has helped VCH increase their footprint in supportive housing offerings and creating supportive housing for families rather than exclusively individuals. Dennison also mentioned that "the process is faster and cheaper than we've done before."
Bringing Innovation To Scale Through Modular Housing
As a new company founded in 2018, Daylight Community Development (Daylight) created an innovative model of financing and modular housing that is already delivering housing faster and cheaper.
Founded in the wake of Proposition HHH public investments, Daylight has five projects with 200 units of supportive housing in the pipeline. They are a for profit but strongly mission driven organization.
We are here to challenge the status quo. Affordable development is largely symbolic because they chip away at the problem slowly when we have an extreme shortage of affordable housing. We need to change the paradigm and create efficient models that can be replicated at scale and that's what we are doing here.

Greg Comanor, Partner at Daylight Community Development
Daylight uses primarily modular buildings, which are prefabricated structures that allow for the building and site work to happen at the same time. This can help to streamline costs and construction times. Greg mentions they are "about $400,000 per door which is roughly $200,000 less than similar models."
Greg and his team have a passionate commitment to bringing this model to scale. "This is not a one-off. We are talking about modular at scale and using the same team who can do this over and over and over again," mentioned Comanor. "And these are gorgeous projects that are not compromising quality."
Greg has been pleasantly surprised by the local support for their projects but they have been successful by engaging with communities early in the process. He credits Everyone In for their help creating public coalitions of support.
"I can't be more supportive of these types of grant programs that allow ideas to test themselves out," Comonar remarked. "We wouldn't be where we are without APSH funds and we wouldn't be where we are without United Way."
Supportive housing models often make communities safer with security, services and staff on site, and 90% of people who receive supportive housing and services stay housed. There's no question that building these homes is worth the investment of time and money. To date, more than ten thousand new units of supportive housing are in the pipeline throughout the county for people experiencing homelessness.